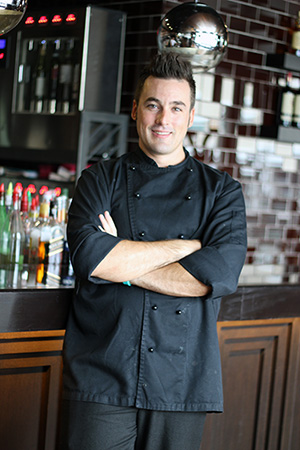 Svago has recently welcomed a new Chef de Cuisine to elevate the restaurant's dining experience even further. A native of Spain, Chef Miguel Huelamo Estrada is a familiar face to many of the world's most exclusive restaurants, having conjured wonderful masterpieces from the pot to the plate in the United States, Greece, Britain, Taiwan, and Hong Kong.
Miguel's experience across the globe will be a valuable asset to Svago, where guests can expect a refined international menu that features and brings out the best in local ingredients. On his approach to cooking, Miguel enjoys challenging himself by adapting to and evolving with the perimeters set by a new environment, which also explains his penchant for travelling and thirst for culture.
Having witnessed a history of culinary trends rising and disappearing, Miguel distances himself from fusion cuisine, opting instead for a more gentle approach to cooking.
"I remember seeing a Spanish Paella Maki and there was so much going on in there, so much overlap in flavours, that it was difficult for each of the components to truly shine on their own. Here were two fabulous dishes with their own histories, perfected and refined for generations, destroyed under so much pressure to create something new. I prefer to tease my guests with 'the unfamiliar familiar', which somewhat reflects on my travelling experiences where I sometimes find things that are similar but have evolved from very different origins."
Miguel was trained at the prestigious Escuela Irizar, a renowned culinary school in San Sebastián established by the founder of New Basque cuisine, Luis Irizar. Since then, Miguel has had the privilege of working with numerous culinary luminaries, such as Juan Mari Arzak, one of the best chefs in the world, and Bjoern Weissgerber, whose passion and devotion to his craft greatly inspired Miguel during a summer stint in Miami.
As Svago's newest Executive Chef, Miguel is all for redefining limits and pushing the envelope to create a uniquely, distinctive, Svago experience. Guests can anticipate exciting new items in the revamped menu, featuring American and Latin influenced dishes like ceviche, crab cakes, and gourmet tacos.