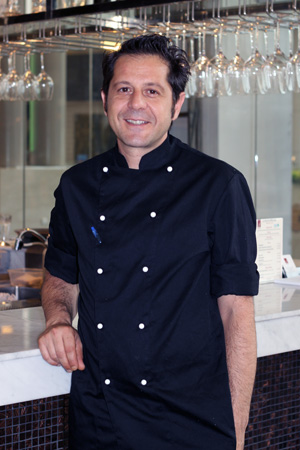 Italy is never far from Daniele Gaetano, who seems to travel with it wherever he lands, taking along with him many of the country's signature flavours then translating them into magnificent dishes on the plate, adapting them to suit the local palate without jeopardising the integrity of a true Italian fare.
A Calabrian by heart and native to Italy's charming little city of Lamezia Terme, famous for their ancient thermal baths that have offered repose to men of antiquity, Daniele was heavily influenced by his family's sense of duty — a commitment to offer guests of his family's restaurant hearty and evocative Italian meals, conjuring flavours that have survived for centuries in the kitchens of so many, where wellguarded recipes are passed from a generation of cooks to another, including Daniele.
Daniele grew up learning to prepare his own meals at a fairly young age as his mother was rarely at home, juggling multiple responsibilities elsewhere while a young Daniele was left to experiment in the kitchen. Following the completion of his studies, Daniele dived headfirst into the working world, Daniele Gaetano beginning as a humble waiter at a hotel in the pristine, snow – capped mountains of Courmayeur, exposing himself to the hospitality and tourism industry before becoming Head Barman of the romantic Antico Caffè della Pace in Rome, who has played host to many of Hollywood's glitterati such as Sophia Loren and Woody Allen.
After his stint at the café to the stars, Daniele gradually climbed up the ranks, travelling to Sydney and becoming Chef de Partie to Dante's Italian Restaurant. His culinary conventions and traditions continued to secure him positions elsewhere, bringing him back to Italy where he worked for a hotel in Sardinia, before leaving his motherland once again for England, examining gastropub innovations at The Salusbury Pub and Dining Room in London. Grenada was Daniele's home of seven years until 2013, where he was Executive Chef at Laluna, an exclusive retreat on one of the island's most secluded beaches facing cerulean Caribbean seas. It is here where Daniele was introduced to a myriad of Caribbean specialties, and lavished his dishes with a variety of spices – Grenada is famously known as the Island of Spice after all, being second only to Indonesia as the world's exporter of nutmeg.
Daniele prefers to espouse a simplicity in his approach to cooking, perhaps an imprint of his stay in Tuscany, where the local fare is distinguished by its nononsense appeal. Less is definitely more to Daniele, and as Spasso Milano's newest Chef de Cuisine, he looks forward to introduce the allure of fusing minimal ingredients to bring forth the greatest pleasure on the plate, reminding Malaysians once more why Italian cuisine continues to proliferate phenomenally.